Oops... We almost put 2017. But... No! It is our first Painted Staff Picks of 2018! Happy New Year, Comic Fans! Let's get started and jump right into what books we think you should be reading...
Old Man Hawkeye #1 (of 12)
Adam's Pick
The super heroes have fallen. The country has been divided into territories controlled by super villains. Among the wastelands lives CLINT BARTON - one of the few Avengers to survive. But it's been 45 years, and he's no Avenger. Trying to eke out a living anyway he can, the former HAWKEYE is confronted with a startling discovery: the sharpshooter is going blind. With time running short, Clint realizes there's one last thing he wants to see: revenge for his fallen comrades-in-arms. Rising-star writer Ethan Sacks (Secret Empire: Brave New World) and superstar artist Marco Checchetto (Star Wars Shattered Empire) take you back to the Wastelands in a story set five years before the original classic OLD MAN LOGAN.
Barton is not as young as he used to be. And, though he does not call himself an Avenger anymore, his heart and sole have not changed. Even with age getting the better of him, he still seeks justice for those whom he once loved.
If you are a fan of the original Wolverine Old Man Logan series from Mark Millar (Kick-Ass, Kingsmen: The Secret Service) and Steve McNiven (Secret Empire), you will want to dive into this story. #1 is now out on shelves.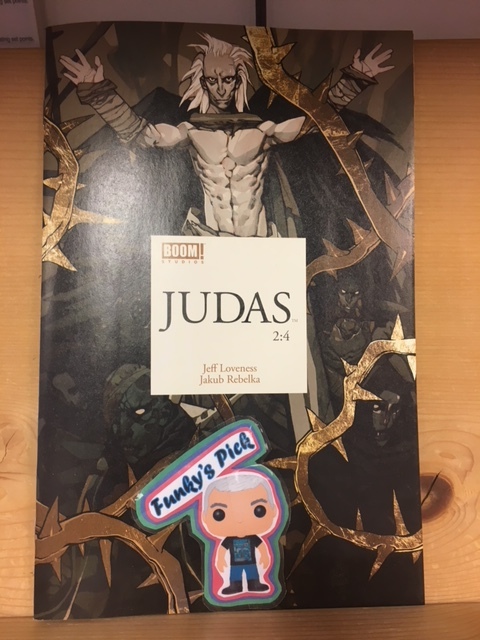 Funky's Pick (Part I)
Judas comes face-to-face with Satan, and the Great Adversary begins to win him over.
The story of the man went from Disciple to Betrayer. But he was not just one who took a few coins to give up one of the holiest men in history. There was darkness, evil and even light behind Judas' actions.
This book is a MUST in your collection. From Emmy Winner Jeff Loveness (World Reader) and artist Jakub Rebelka (Namesake), #2 is on the shelf now and is going fast!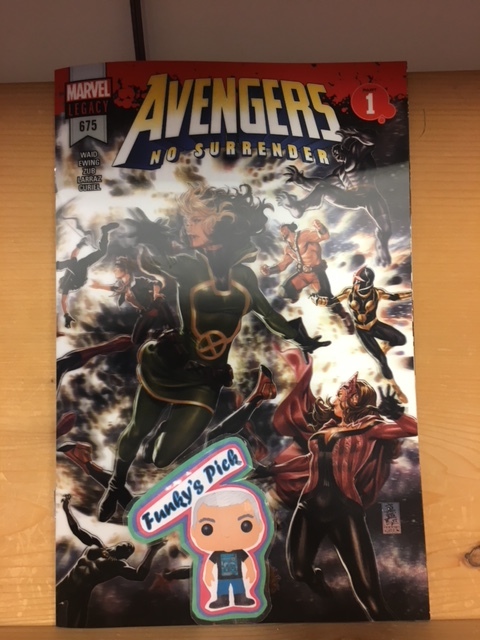 Funky's Pick (Part II)
NO SURRENDER Part 1 - AVENGERS goes WEEKLY for the stunning sixteen-part saga that will write the end of an era!
The Earth has been STOLEN! The sky burns while mysterious cosmic objects crash down from above, wreaking havoc across the world! The Avengers are the last line of defense between Earth and the mysterious forces threatening to tear it apart. It's time to ASSEMBLE! The teams you know and love from AVENGERS, UNCANNY AVENGERS, U.S.AVENGERS and OCCUPY AVENGERS come together to face a threat beyond any they've faced before in a weekly epic adventure that will define the future of Earth's Mightiest Heroes!
It is such a big week that Funky needed to double up on the Staff Picks! The Avengers' world is rocked and it will take all of the Earth's Mightiest Heroes to work together. Avengers is now WEEKLY! And it is worth every second. Come in and pick up this new Earth Shattering series from writer Mark Waid (Archie) and artist Pepe Larraz (Star Wars: Kanan)!
Phew! What a week. Our first Staff Picks are up but we always have many more books to offer. Come on in and we will happily give you more and more and more... And more!