Are you ready for some new Painted Staff Picks? Cause here they come!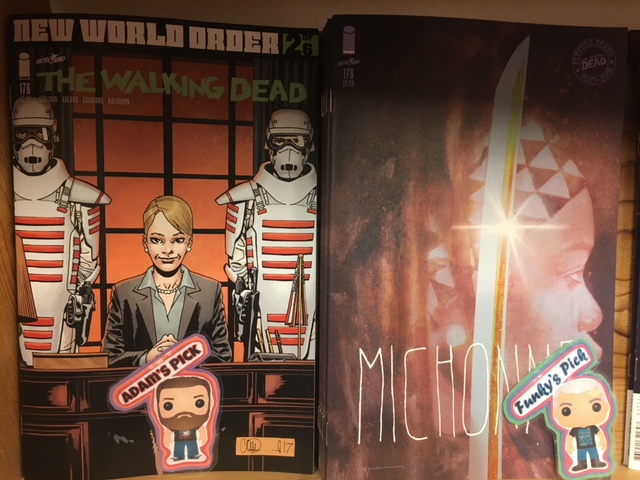 Adam AND Funky's Pick
"NEW WORLD ORDER," Part Two. An audience with a different kind of Governor.
Is Michonne's daughter still alive? Who is this 'Governor' of the Commonweath? And... Can they truly be the link back to a normal society? Part two of the 30th Volume of Robert Kirkman's (Invincible, Outcast) Walking Dead is here and this one will make you feel some serious feelings!
Are you a huge Robert Kirkman fan? His new series Oblivion Song hits stores with #1 on March 7th. Preorder your copy today!
Batman: White Knight #5 (of 8)
Adam's Pick
Jack's mind and body begin to betray him as he prepares for an inevitable showdown with Batman, and Bruce himself struggles to keep his team united. As the game gets tougher, Batman seeks counsel from a shocking source-and after Wayne Manor is infiltrated, a car chase for the ages aims to curb Napier's supercriminal crew once and for all.
Batman: The Animated Series was special. It holds a place in all of our hearts in one or another. But... If there was ever a tale in similarity to BTAS, it would be Sean Murphy's (Punk Rock Jesus, Tokyo Ghost) Batman: White Knight. Jack Napier is the popular political choice right now. Even, apparently, amongst the police. And... Maybe even the Batman Family? With everyone turning their backs to the Batman, it is time for the final showdown to begin. But will the pills that are keeping the Napier's sanity stay steady, or will his body (or the Joker) begin to fight back?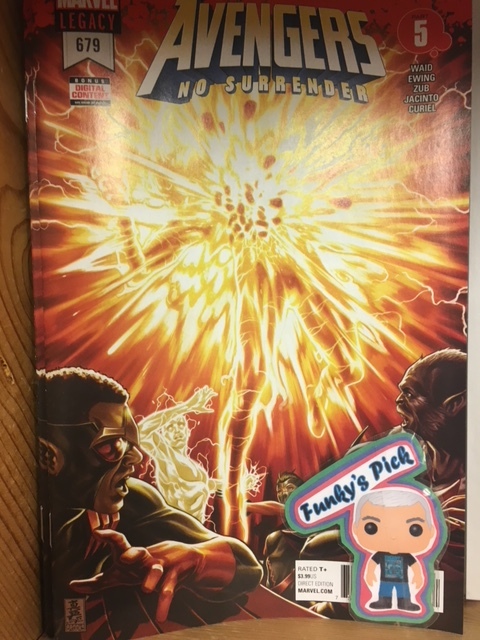 Funky's Pick
NO SURRENDER Part 5. THE AVENGERS WEEKLY EPIC CONTINUES! Who is the Challenger? What is at stake in his grudge match with the Grandmaster? And when the two of them clash, can the Earth survive the destruction they unleash?
In the stunning new issue of Marvel's weekly Avengers event, we learn a series of... Surprising tidbits. Who is the Challenger? What are his origins? Plus a sneak peak of... Someone's potential return? We have already talked up this series but it is only getting better! Make sure to come by and catch up on all the action!
Need more? We love talking books. Come by the store and we will offer these and so many other incredible titles.