Another week, another round of Painted Staff Picks! Let's jump right into it...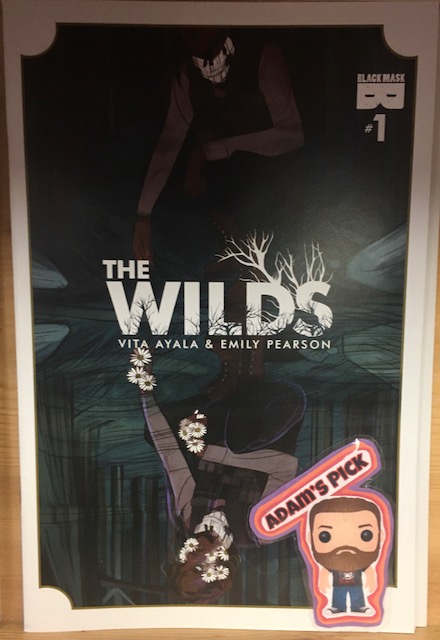 Adam's Pick
Writer: Vita Ayal
Artist: Emily Pearson
Colorist: Marissa Louise
After a cataclysmic plague sweeps across America, survivors come together to form citystate-like communities for safety. Daisy Walker is a Runner for The Compound, a mix of post-apocalyptic postal service and black market salvaging operation. It is a Runner's job to ferry items and people between settlements, and on occasion scavenge through the ruins of the old world. Daisy is the best there is at what she does. Out beyond the settlement walls are innumerable dangers: feral animals, crumbling structures, and Abominations - those that were touched by the plague and became something other. After a decade of surviving, Daisy isn't phased by any of it - until her lover, another Runner named Heather, goes missing on a job. Desperate to find her, Daisy begins to see that there may be little difference between the world inside the walls and the horrors beyond. From writer Vita Ayala (Bitch Planet: Triple Feature) and Emily Pearson (Cult Classic) with colors by Marissa Louise (Spell On Wheels) and covers by Natasha Alterici (Heathen), comes this bold tale of surviving in bleak times.
There are many stories in which the world is lost. But few that talk about the world after. When the pieces have started to fit back together. People have jobs, are parts of communities and creating families. They are living their lives. Daisy's part in the community may be a little more treacherous but she lives it daily and to the best of her ability. And her ability is the Best! But not even the best can be prepared for all dangers. Especially those that hide outside of the safe walls of The Compound. #1 of this new series from Black Mask will keep you on the edge of your seat. Come by and grab a copy of The Wilds now!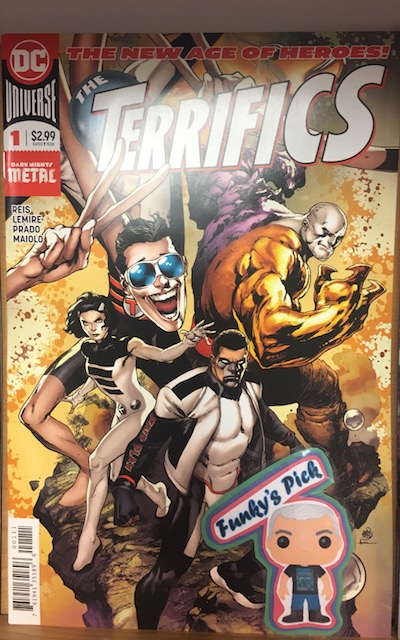 Funky's Pick
Writer: Jeff Lemire
Artist: Ivan Reis, Joe Prado
Bound together by fate, united by the spirit of exploration and hope for tomorrow, the Terrifics are bound from the Dark Multiverse of Metal! When Mr. Terrific, Metamorpho, Plastic Man and Phantom Girl find themselves literally bound together by a tragic accident, our team of unlikely allies must rely on one another to make their way back home. But a startling revelation on their return trip brings them face to face with a new mystery: Where in the universe is Tom Strong?
When it looks like the Universe may crumble in on itself, we look to the greatest Superheroes to save us! These are... Not the typical team you look towards... But Mr. Terrific, Plastic Man, Metamorpho and Phantom Girl are a team of intellegent and powerful heroes. And they will seek out where Tom Strong is and why he so desperately needs help in saving the Uniervse!
Adam's Pick
Writer: Donny Cates
Artist: Niko Henrichon
A "DAMNATION" TIE-IN! Doctor Strange bet on his ability to restore Las Vegas and got his prize - with some satanic strings attached! Now he's going double or nothing to set things right. How did he get back to full power? And will it be enough when he's gambling for his life?
What happens in Las Vegas stays in Las Vegas. But for it to happen in Las Vegas, it must first be Las Vegas! Doctor Strange is working magic in the best way he can. By putting it all on the line. Will he be able Sin City (no, not Sin City) and put it back together before it is too late?
Funky's Pick
Writer: Daniel Kibblesmith
Artist: Carlos Villa
Colors: Chris O'Halloran
Letters: Clayton Cowles
WHO'S A GOOD BOY? Part 1. At long last, the dog has his day! Lockjaw spends most of his time defending the Inhuman empire alongside Black Bolt and Medusa. But when he gets a message that his long-lost litter mates are in danger, he'll spring into action to save them! But wait - Lockjaw has brothers and sisters? Can they teleport? Are they Inhuman? Can they possibly be as gosh-darned cute as their big brother? All the answers are here! Get ready for an adventure worth fetching for!
So we could give you with reasons why this issue is incredible. We could talk about how Lockjaw must fight to protect his family. Or we could talk about how cute and fluffy this issue is! This new series from Marvel brings the snuggly... The cuddly... And the Love! Lockjaw is about family, adventure and... The Inhuman Dog that can Teleport! Need we say more?
Need more? We have comics from the floor to the ceiling! Come on in and we can offer you many, many more page-turning series!