This week brought some great new reads. Let's talk about them, shall we? Here are this week's Painted Staff Picks...
Adam's Pick
Writer: W. Maxwell Prince
Art: Martin Morazzo, Chris O'Halloran
"RAINBOW SPRINKLES." The second installment of this syrupy series of singular stories! Here, the lives of two very different kinds of opioid abusers intersect. But at whose behest? (I think you know the answer....)
Have you seen that Netflix show Black Mirror? Each story tells a deep, winding tale of woe, life and reality. It builds a level of fiction but also gives us a glimpse into truth. If you love stories like that, then Ice Cream Man is 100%... No... 1,000% for you! It has chills, thrills while also telling the stories of human nature. Its reality that portrays the darkness that resides within. But do not fall in love with the characters, as each issue weaves a new tale that will leave you hanging onto the edge of your seat.
Funky's Pick
Writer: Reginald Hudlin, Donald McGregor, Christopher Priest
Art: Daniel Acuna, Ken Lashley, Mike Perkins
LEGENDARY PANTHER WRITERS RETURN! Three legendary BLACK PANTHER writers return to Wakanda! Don McGregor's famous storyline "The Panther's Rage" has become one of the most well-respected runs in comic book history. Now, the author who redefined Wakanda for a generation is back to expand the mythos! Bearing the heart-shaped herb that defines the Panther legacy, King T'Challa leaves his beloved country for a heart-wrenching mission in the streets of New York. Then: For half a decade, comics legend Christopher Priest made his mark on the Panther. The acclaimed writer returns with an all-new story - and with it, of course, U.S. State Department employee Everett K. Ross! And finally, no Panther history would be complete without Reggie Hudlin, author of more than 50 Black Panther stories, including the famed "Who Is The Black Panther?" Don't miss the sequel to his "Black to the Future" story, featuring original artist Ken Lashley!
Do you love Black Panther? Have you already seen the movie 5 times (or more)? If available, would you be the first person on a plane if offered to move to Wakanda? Do you REALLY love Black Panther? Then this issue is for you. From some of the greatest names in T'Challa's history, we have one of the biggest most exciting issues of the year. Come in today and grab a copy of the oversized Black Panther Annual #1.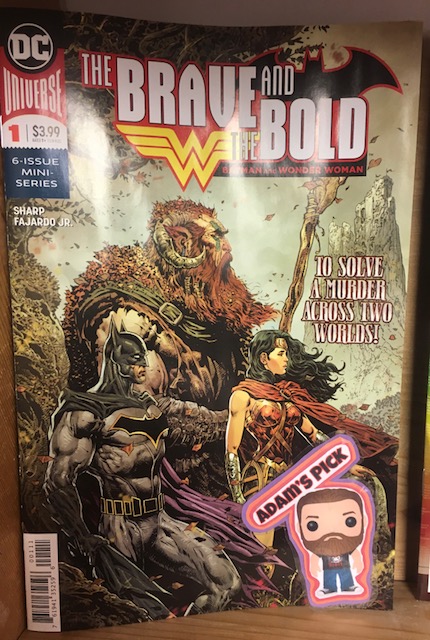 The Brave and the Bold: Batman and Wonder Woman #1 (of 6)
Adam's Pick II
Don't miss the start of a new, six-issue miniseries written and illustrated by Liam Sharp (Wonder Woman Rebirth)! When a Celtic god's murder leads to a war between the fairy folk and a possible breach between worlds, Wonder Woman must find the murderer and keep the peace while Batman investigates strange occurrences in Gotham City. As Diana must turn to the World's Greatest Detective for help, the two heroes quickly learn their cases may be connected.
Mystery. Murder. Fantasy. The worlds of the paranormal/fantastical and reality are separated by a fine line. But there are those who wish to destroy that which keeps the peace. When worlds collide, two of DC Universe's greatest heroes must look to each other, once again, for support. The first issue of the new team-up miniseries is on shelves now. Come by and grab a copy today!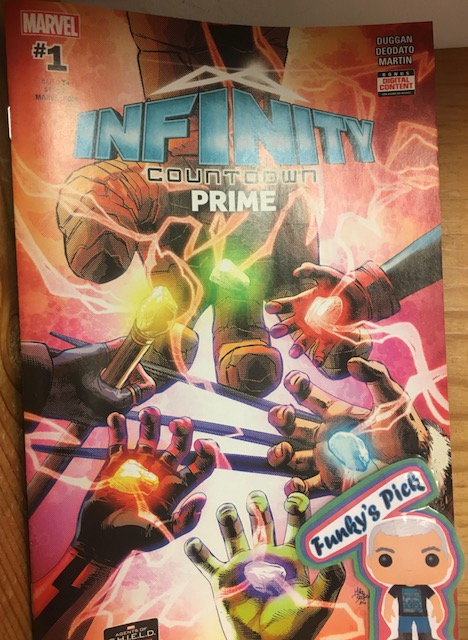 Infinity Countdown Prime #1
Funky's Pick II
Writer: Gerry Duggan
Art: Mike Deodato Jr., Frank Martin, Cory Petit
Contains 30 pages of all-new story from Gerry Duggan (Deadpool) and Mike Deodato Jr (Invincible Iron Man), with additional bonus content! This brand-new story is the beginning of the saga fans won't want to miss. The Infinity Stones. Individually, they grant their wielder great power. Together, they grant the power of a god. Newly reformed and scattered throughout the universe, these artifacts allow the ones who claim them their heart's desire. Now, as their locations are discovered, forces converge for a battle that will begin the universe down a dark path to the END. Jump onto this exciting ride that will lead to the biggest Infinity yet! Plus: The saga of the Infinity Stones-what they are and how they came to be! From creation to destruction to re-creation, this prose primer will tell you everything you need to know about the legendary cosmic gems!
Avengers Infinity War is just around the corner, hitting theaters May 4th. So would it not be nice to know the truth about the Infinity Stones? What they are. How they came to be? Now is our chance. The Infinity Stones are back and the Universe will go to war to attain them. Check out this new series from Marvel and learn the history (and the future) of the Infinity Stones.
Need even more options? Come on by and we can pile you up with all the best new reads on the shelves!