Wow! Free Comic Book Day weekend was craziness! We hope you had lots and lots and lots and lots and LOTS of fun! And the excitement does not stop there. Let's get to some Painted Staff Picks!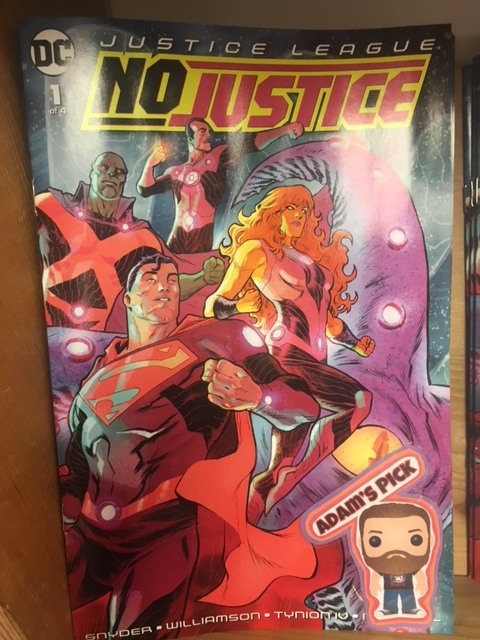 Justice League: No Justice #1 (of 4)
Adam's Pick
Writters: Scott Snyder, James Tynion IV, Joshua Williamson
Artist: Francis Manapul
Colorist: Hi-Fi
Letterer: AndWorld Design
Dark Nights: Metal left the DCU transformed in ways both terrifying and wondrous-and only the Justice League is strong enough to face the threats to come...or are they? Four giant beings comprised of the universe's major energies-Mystery, Wonder, Wisdom and Entropy-who sustain their life force by devouring planets are on their way to destroy the planet of Colu. The only way to take down this unimaginable threat is for the superhero teams of Earth to forget everything they thought they knew and form new alliances.
What secrets of the cosmos will Superman, Martian Manhunter and Team Mystery discover? Will Zatanna, Wonder Woman and Team Wonder awaken alien magic they cannot put back to sleep? What can Harley Quinn possibly have to teach the rest of Team Wisdom? And most importantly...why the heck is Beast Boy on Team Entropy with Lobo and Batman? Find out all this and much more in the most exciting, bombastic event of summer 2018! In this kickoff issue to the four-issue miniseries, after Brainiac systematically takes down all of Earth's super-teams, the last thing the League expects is for him to ask for their help! Without their aid, his home planet and the universe are both doomed!
There is a hole in the Source Wall. This has not only led to new magics. New super powers. But also... New Villains. Ones that are ready to seek out and destroy Earth. With the Omega Titans already on their way, new teams must form and fight together. It is the dawning of the new Justice Leagues!
Barrier #1 (of 5) Collector's Edition
Funky's Pick
Writer: Brian K. Vaughn
Artist: Marcos Martin
Colorist: Muntsa Vicente
From the Eisner Award-winning team behind The Private Eye, Barrier is an unconventional drama about violence, language, and illegal immigration...with a shocking sci-fi twist. After debuting on PanelSyndicate.com, this critically acclaimed five-part miniseries finally comes to print, exclusively from Image Comics. After making the massive, 50-plus-page first issue available to mature readers for FREE on Free Comic Day, this special collector's edition of the first issue is being released in a larger size to match the next four issues being released WEEKLY throughout the rest of May! Printed in its original "landscape" format (side-stapled for convenient shelving!) and graced with gorgeous cardstock covers, each comic is meant to be a durable work of art, and there are no plans for these print issues to ever be collected, so the only way to own your own copies of this groundbreaking story is by supporting your friendly neighborhood comic shop!
Repeat!!! This will never be combined! Come grab the single issues, arriving weekly, today!!!
PS: As Issue #1 was available (as a non-collectors edition) on Free Comic Book Day, this actually makes it the SECOND week #1 is available. It also means that #2 is also on shelves now!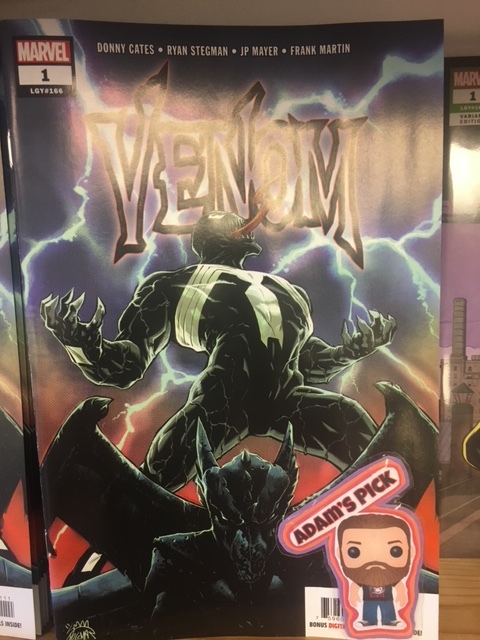 Adam's Pick II
Writer: Donny Cates
Artist: Ryan Stegman
Inker: JP Mayer
Colorist: Frank Martin
Letterer: VC's Clayton Cowles
In the wake of S.H.I.E.L.D.'s collapse, an ancient and primordial evil has been awakened beneath the streets of New York, and with it, something equally evil has awakened in that most Wicked of Webslingers - VENOM! Still a Lethal Protector of the innocents in New York, this never-before-seen threat could force Venom to relinquish everything it holds dear - including Eddie Brock! Join two of the hottest creators in comics today, Donny Cates (God County, Thanos) and Ryan Stegman (New Mutants: Dead Souls), for a VENOM adventure a thousand years in the making!
Venom is still on the side of good. Fighting as a champion of New York City. But for how long? A new foe has arisen within the city and it will cause the symbioteto question its choices. Will this enemy cause Venom to turn back and leave his new life of heroing, and maybe even his host, behind?
Need more? We got you! Come on by and we can offer you even more delightful comic tales.